Last Update Aug 23, 2023 @ 12:54 am
Dumpster Rental vs. Junk Removal Services vs. Dump Trailer: Expert Overview
Construction and cleanouts projects generate a lot of debris. Even a small repair in an apartment or a house is accompanied by the formation of a large amount of garbage and construction debris. Most often, those who start renovating or cleaning wonder how to remove construction garbage and household rubbish.
In some cases, you can get rid of junk yourself by donating, recycling, or throwing away these items in your personal trash barrels, but sometimes you need a larger solution.
Bins 4 Less, Inc. rents out junk removal dumpsters for a variety of projects, but we know that a dumpster rental sometimes isn't the best choice for your project. We've decided to guide our readers about different debris disposal options, even if that means you don't rent a dumpster with us. We want our customers to make informed decisions and be knowledgeable about their options before deciding on the method that will work best for them.
But first, before deciding where to dispose of household and construction waste, it is necessary to clarify what exactly the term "waste" entails.
Most people think of construction rubbish as just large objects or materials like toilet bowls or ceramic tiles. In fact, this trash refers to anything that must be thrown away during construction. Construction garbage includes large waste from demolition such as windows, doors, concrete, and parts of ceilings. These items are difficult to throw away in personal trash barrels, and cannot be thrown into the regular trash bin.
Furniture, plumbing, and old appliances can be disposed of at your local landfill. You can bring it yourself if you have a vehicle capable of holding and moving large items. You will be doing the lifting, and it may take several trips if you have many bulky items.
If the furniture is in good condition, it is worth trying to list online and sell it on marketplaces. If you don`t mind listing and waiting, it is a good option.
If you wish to remove construction and household garbage quickly, it is usually done with dumpster rental, dump trailer rental, and junk removal services.
Let us walk you through some cons and pros that come with each option that should help before deciding.
Junk Removal Services
What is Junk Removal?
A Junk Removal service is when a company provides a dumpster bin and a crew to do the hard job of loading the garbage into the back of their dump truck. If you have unwanted items you wish to dispose of and you don`t have a large truck to transport them, or if you don`t want to do the heavy job, contact a junk removal company.
Usually, a junk removal company offers to send a member of their team to check how much waste needs to be disposed of who can give you a quote prior to scheduling an appointment to remove the garbage. Sometimes a junk removal company may offer same-day service. If you have time constraints, choose a company based on that.
What Junk Removal Company Cannot Accept
Junk removal services can help to dispose of yard waste, large heavy items, old appliances, trash, and other debris. However, there are items that junk removal companies don`t accept as they are dangerous to transport. These items include pesticides, oil, fuel, household cleaners, pharmaceuticals, ammunition, gasoline, asbestos, and household hazardous waste.
Benefits and Drawbacks of Junk Removal
Benefit – Eco Service. Many Junk removal companies know how and where to haul waste and the legal guidance for disposal. Junk removal professionals often have extensive knowledge of disposal methods. If you`re hiring a junk removal firm, their employees know the correct way to trash disposal. That means, many junk haulers can recycle and reuse junk, so it is good for the environment. Other junk removal companies may haul waste to landfill as it is quicker and easier to do. You can reach local junk removal service companies and inquire about the disposal process before hiring them to make sure you agree with their disposal method.
Benefit – Stress-free. All you would need to do is point the Junk removal professionals to unwanted items and they will haul them away.
Benefit – Safety. Moving heavy and large bulk items on your own can be risky, it is better to let a dumpster company do it.
Drawback – Extra Cost. Junk removal services may be a more expensive option due to the insurance, employee wages, and taxes that a company has.
Drawback – Long Waiting. Most companies usually provide a 2 – hour window for when they appear, and it certainly is an inconvenience for some people who cannot stay at home.
Dumpster Rental Services
How does a Dumpster Rental Service work?
A dumpster rental service is a service where a homeowner places a bin filled with garbage that is later removed and disposed of by a dumpster business.
A typical dumpster rental provider will deliver a bin at a convenient date and time and place it in your driveway using a hook lift system mounted on a truck. When renting a roll-off dumpster, the debris removal company may allow you to fill a bin over a day or up to a week. If your project requires more time, the majority of companies are flexible and can extend the dumpster rental period. Please also note that the dumpster rental service may charge additional fees for extended rental days. If you are exceeding the weight limit, there can be extra costs for dumpster service as well.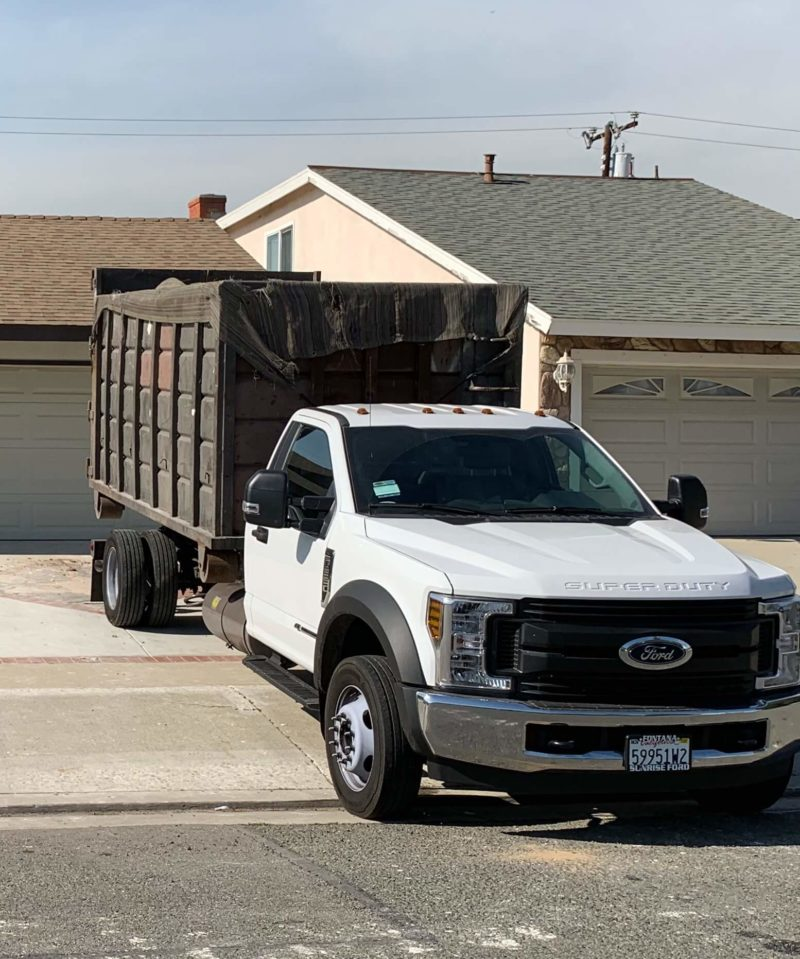 What are Dumpster Configurations?
At Bins4Less we carry 3, 6, 10, 12, 20, and 40-yard dumpsters. Each trash bin has a specific weight limit. While most dumpsters are fairly standardized in terms of the types of trash they can handle, some of them are designed for specific-scale projects. Please check here to learn about the right size dumpster rental.
Renting a dumpster for House Project
If you`re a do-it-yourselfer and you want to rip off walls, floors, and windows as a part of your renovation project, then renting a dumpster is the most efficient waste disposal method. This type of material cannot be dumped into a trash-hauling container or trucked at a cost-effective rate.
If you plan on renting a dumpster for landscaping and driveway improvements, check to see if it is allowed. Some dumpster companies do not allow concrete disposal or have limits on concrete disposal.
You can load the dumpster with rubbish by throwing it on the side wall. When the bin is full, you may contact the dumpster rental services and the company will send a pick-up truck to carry it back.
A roll-off dumpster is a large open-top tank made of steel sheets. They are the most reliable and durable. The roll-off dumpsters are designed to be transported by special roll-off vans. Smaller-size dumpsters called lowboys are tanks with lids.
What are the Roll-Off Dumpster sizes?
Usually, dumpster rental companies have multiple-size dumpsters to rent. Here at Bins 4 Less, we offer dumpster rentals ranging in size from 3 cubic yards up to 40 cubic yards. The roll-off dumpsters are often used by construction and roofing industries as they can fit both solid household garbage and construction debris (building materials, window and wall elements, scrap).
Typically, the household trash is collected in small dumpster containers, while construction sites are exported in 20 or 40-cubic-yard dumpsters.
Roll-off dumpster rentals are great if you need to move out of a house. Tables, bookshelves, sports equipment, carpets, and doors can perfectly fit into a dumpster. You may not be able to store all unwanted items in one roll-off bin, but if you have no place to keep them, renting a dumpster can be handy.
Benefits and Drawbacks of Dumpster Rental Service
Benefit – Flexibility. Dumpsters can stay at your site longer.
The loading process can take up to a week and sometimes several weeks, depending on your agreement with the dumpster rental company. This will let you fill the dumpster to its weight and capacity limit at your own pace.
Benefit – Safe for Job Site. If you choose dumpster rental for a construction project, it may create a safer work environment. You can allocate all the junk items in a dumpster and keep the garbage in one place. Not only is it a cleaner way of construction garbage disposal, but it may also prevent injury and a risk of legal action.
Benefit – Environment Friendly. Hauling services may require to do not one trip to landfills. Every trip creates a carbon footprint. Dumpster rental service helps to reduce trips to fewer needed to remove junk.
Drawback – Heavy Lifting. Renting a dumpster, whether you have small or large unwanted items, means you will have to do the hauling yourself. Doing a heavy physical job may be difficult. Also, a roll-off dumpster can be very large. Unless you`re very tall and able to lift everything into the dumpster, you may need to build some steps or buy a sturdy box to make this process easier for yourself.
Drawback – Risk of Damage. Steel wheels can be rough on the property unless you put planks underneath. We recommend checking with a dumpster rental company about surface protection.
Drawback – Parking space. Make sure the road or driveway where you plan to place a roll-off dumpster is free of obstructions. If you set it up too far from your residence, you`ll have to walk all your bulky items a long distance which is not convenient. Also, if your roll-off bin takes up a lot of your parking space, you may have to park farther away from your home.
Waste Removal with Dump Trailers
What is a Dump Trailer?
Dump trailers are rubber-wheeled dumpsters with high walls used to transport junk to a landfill. The dump trailer easily attaches to trucks and other four wheels vehicles which allows you to maneuver the load yourself. Due to their mobility, dump trailers are also known as rubber-wheeled dump trucks.
What are Dump Trailer Configurations?
The size of the dump trailer ranges from 8-20 feet in length, and 12-14 is the most common size. The dumping style of these trailers can be side, rear, and bottom.
Another dump trailer element is the gates. They assist with unloading oddly-shaped pieces of trash. The gates have different styles:
A single-door – a simple door that extends the length of the truck bed.
A barn door – this can be located on the side and the back of the trailer. These doors open from the center and extend half the length of your trailer bed.
Truck Bed Gate – this style opens downwards instead of outwards. This potentially allows longer items to be transported.
Lifting Mechanism of Dump Trailers
Most of these trailers have a hydraulic mechanism for easy lifting, but there are several types:
Dual Piston – 2 pistons are located under the trailer and are responsible for pushing the front of the trailer up and hanging down the rear.
The Telescopic Style uses a cylinder that is generally centered towards the front edge of the container.
Scissor Lift operates with one cylinder to fully extend one side of the trailer bed.
Another feature of the trailers is the ramps. The ramps can be attached to the dump trailer as a part of the gate.
What can you do with Dump Trailer?
The dump trailers are great for small jobs as well as projects to remove more waste. These projects include landscape installation, driveway repair, waste removal, snow removal, heavy-load transportation, and landscaping inventory transportation.
Benefits and Drawbacks of Dump Trailer Service
Benefit – More Reliable. Rubber wheels can cause less damage to the property.
Benefit – Mobility. Dump trailers can be moved anywhere on the job site.
Drawback – Carbon Footprint. Utilizing a dump trailer may need several trips to a landfill.
Drawback – Demanding. Dump trailers require ramps to load larger or heavier items.
Dumpster Rental vs Dump Trailers
You know basic information about dumpster and trailer rental. We can compare both choices on three fronts: cost convenience and haul capacities.
The dump trailers are not the same as roll-off dumpsters, mainly because of the difference in how much weight they can carry. The dump trailer is a lot easier to put in a short driveway or tight alleyway than to properly unload a dumpster. You can complete several small junk removal jobs by visiting multiple sites in one trip and delivering the garbage to the landfill.
On the plus side, renting a dumpster won`t require multiple trips to the dump. Ground-level placement makes it easier to load garbage into a dumpster. The trash containers are sturdy and won`t need repairs.
On the opposite side, there are a few factors to consider. It is hard to relocate a dumpster once it is placed or it cannot be used at multiple sites. The dumpster`s steel wheels can cause property damage unless the surface is properly protected.
If you rent a dump trailer, it is time-consuming to make trips to the dump and unload. Different dump trailer sizes may require a CDL license.
Price comparison
The most commonly rented container is a 20-yard cubic trash container. The national average price for a 20-yard dumpster is about half what it would cost to rent a dump trailer and fuel.
Hauling comparison
The best way to determine which option suits your hauling needs is to compare the hauling capacities and weight limits of both options.
For instance, a garage junk removal project would require one 40 cubic-yard dumpster or two or more dump trailers;
Finding a Waste Management Company
Once you`ve decided on the type of service you want, we recommend checking with a dumpster rental provider about any extra fees that might not be included in your quote.
If you`re flexible with dates when you need to remove the trash, it is a good idea to inquire about off-peak days pricing. You may get a better deal if you choose service on weekdays rather than weekends.
Summary

Renting a dumpster is always beneficial because it is a cost effective option. Here are just a few factors to consider.

If you have a large garden project when you are getting rid of shrubs, trees, lawns, dumpster rentals are excellent candidates for yard garbage removal.
The dumpster gives enough space to keep the junk in one place which is beneficial and adds an extra layer of safety at a site.

A dump trailer is better choice to remove trash if you have a narrow driveway.

Choosing between Dumpster Service vs Junk Removal

You have more flexibility on length of service if you rent a dumpster.

If there is a concern about heavy lifting, the junk removal service would be most sufficient.

Renting a dumpster can increase a chance of getting an injury due to the need for you to lift everything heavy. Even you can lift heavy objects, carrying them alone can be dangerous.
The main benefits of Dumpster Rental at Bins4Less
When you contact our company to rent a dumpster for construction or household waste disposal, you will appreciate the excellent customer service.
We work around the clock, 7 days per week, and you can contact us any time, book your dumpster rental, get a free quote and clarify the details of the dumpster rental procedure.
In addition to the individual approach, we guarantee no hidden fees and the great condition of the equipment that will be used during your work as well as the availability of multiple dumpster sizes.
You will be impressed with our professional and speedy service. We offer affordable dumpster rentals in Southern California that you can order online when you need them.
More Posts You May Find Interesting