Last Update Aug 23, 2023 @ 12:54 am
A Compelling Reason to Rent a Residential Dumpster
For those who are starting a home renovation or improvement project, or just looking to clear out a large load of yard waste or other trash, few tools are more convenient, economical, and efficient than residential dumpster rentals.
You could also look for home deals and coupons if you're planning to upgrade your home furniture or interior.
These temporary roll-off dumpsters can handle almost anything you need to get rid of and come in a variety of sizes to make sure that you get the right one for your project.
Residential dumpster rental provides many benefits, and in this article, we'll look at five of the most important ones. 
1. Residential Dumpster Rentals improve safety and reduce health hazards
One of the most important reasons to rent a residential dumpster, and the reason they are ubiquitous on job sites around the world,
is the positive effect they have on workplace safety and the potential health hazards created when large amounts of waste are present.
Often, the most dangerous part of any job site is wherever the waste piles up, especially if there isn't a designated spot for it.
Waste materials pose a significant danger to the environment and public health. Improper waste disposal can lead to pollution, depletion of natural resources, and contamination of soil and water.
Debris affects your family's health and creates unsanitary conditions. From lumber with nails sticking out, to broken glass, to potentially dangerous chemicals, trash can pose a serious risk to those around it.
Residential roll-off dumpsters are an eco-friendly way to dispose of all the waste because they reduce the risk of pollution as well as any health hazards that may arise from improper disposal methods.
If you have a home renovation project, you may rent a residential roll-off dumpster to allocate construction junk so you don`t have to worry about any messes on your property. Construction junk will not be scattered across the area or left in piles for rodents or other pets to inhabit – your property will remain clean pest free.
All the waste produced during construction projects may become unsightly and harmful. Tires, building materials, yard waste, furniture, and electronics are some examples of items that should be handled correctly to avoid these risks. A dedicated debris dumpster eliminates these hazardous materials while keeping your property clean.
Construction workers in the midst of renovation work can be exposed to hazardous waste if they are not careful with the garbage disposal. A whole dumpster rental ensures that all the waste is collected in one location – leaving no trace behind.
For your house renovation project, the residential waste pickup may work. However, you cannot leave hazardous waste and chemicals like leftover paints and varnishes around your property for the next garbage pick-up because they may be harmful to your health. The dumpster rental is a better solution. The junk going into the dumpster will be properly handled by the waste management company which is better than you try to handle it yourself.
Make sure the safety of your family and any workers on site is a priority by renting an appropriately sized dumpster for your job.
Reducing the risk of injuries or accidents also lowers your risk of having to deal with costly litigation due to negligence,
which is another major benefit that residential dumpster rentals provide. 
2. Renting a Residential Dumpster means you have one less thing to worry about
When you're undertaking a major project on your house or yard, there's already enough to worry about.
From hiring contractors and other workers, correcting mistakes gone wrong, and making sure all payments can be made, jobs like these are notoriously stressful. 
The last thing you need is a big pile of trash and other waste to worry about as well.
Renting a residential dumpster is the best way to ensure that the job goes smoothly and is as easy as possible for all involved.
When your house renovation is complete and you`re ready to move in, you don`t want to deal with a heap of construction waste. By renting a roll-off dumpster, if you have a construction crew, they may get rid of the garbage while still working on your house. If you rely on your regular garbage pick-up, it can be too late for the crew to remove construction debris. You will be on your own to handle the junk disposal. Additionally, your large project will generate a lot of waste and debris so your regular garbage pickup won`t be enough. Therefore, it is a good idea to rent roll-off containers when planning to renovate your home.
From a family member who has a clearer path to the house to workers that won't have to worry about disposing of waste, everyone around the site will be glad that the dumpster is there.
3. Greater efficiency leads to a completed project faster
When you're working on something like clearing out a house, demolition or remodeling jobs, or a major yard cleanout,
it's important to establish an efficient and intelligent workflow.
That means reducing time spent transporting the waste, trying to pack it into a trash can that is too small, or trying to figure out
where to set it down where it will be out of the way.
A rentable residential roll-off dumpster is a smart investment in your project because it establishes a quick and easy routine for
getting rid of the waste that any worker can understand.
Dumpster rental services not only make dangerous piles of garbage disappear but also create an efficient job site.
That is because less garbage means more space for other things. More space enables you to set down required equipment, supply
resources, and have more walking space. The more comfortable workplace is the greater workers' energy and motivation and an efficient job site.
Dumpsters keep projects and job sites moving, as trash piles and unmoved waste acts like a clog in the system that will keep workers
from being able to work as efficiently as possible.
The next time you`re considering renting a dumpster, make sure you know about different dumpster sizes.
Most waste management companies offer everything from modest to enormous roll-off dumpsters.
Check out the descriptions of each dumpster size here to estimate which one would work best for your project.
Residential roll-off dumpsters can be rented out for up to seven days or you may extend your rental terms. The roll-off dumpster has a weight limit so the dumpster won`t weigh too much once it is filled. A waste hauling company may raise the cost for overweight. Make sure to ask about additional fees when receiving your free quote.
Roll-off dumpsters may be used for a variety of cleaning projects as well as smaller jobs such as the DIY project you may have at home. There is also easy access to the waste inside the dumpster so you don`t need to lift or drag heavy junk items.
Purchasing heavy-weight trash bags for large projects to collect debris one piece at a time or loaded into a pick-up truck multiple times is a huge waste of time and energy. This is because you will not be able to accommodate big junk items or sharp objects in those bags. A dumpster rental is a better option.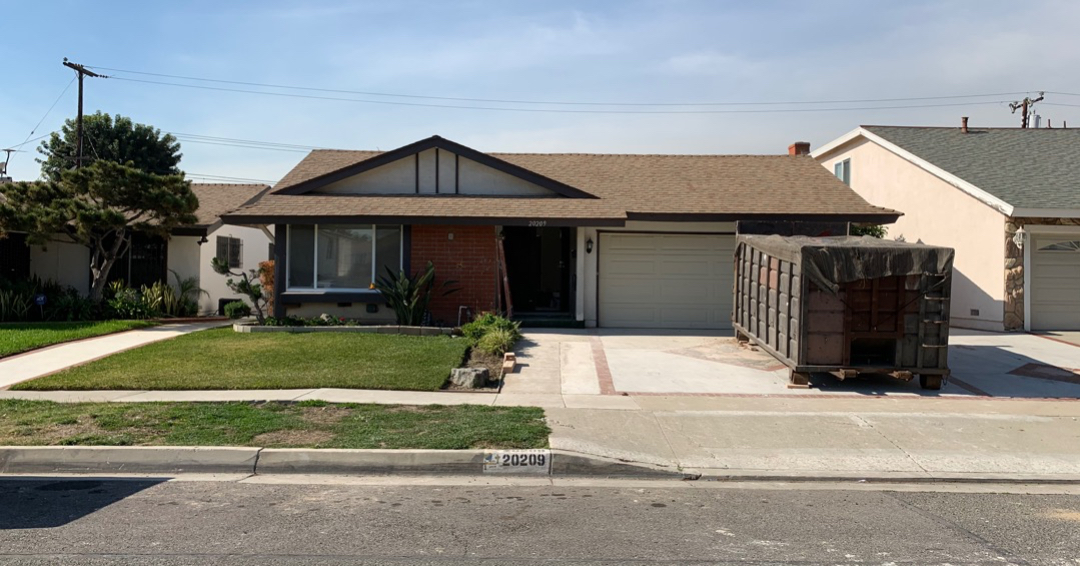 4. More economically sound than garbage removal or dumps
While many municipalities offer garbage pickup for a fee, or you could always transport the waste yourself to the dump,
these options are more expensive and time-consuming than simply renting a dumpster.
Renting a residential dumpster is a great way to save money in the end. 
When you take a load to the dump, you'll have to use a personal vehicle to transport it,
so if you don't have a pickup truck handy, you'll have a hard time with this.
Instead of making multiple trips to the dump, you can simply dump all of your waste in the dumpster.
In addition, the fees add up quickly and will make you wish you had simply gone with the dumpster instead.
Lastly, you'll likely have to unload it yourself, which can be difficult and dangerous. 
Dumpster rental will save you time and money and lower the cost of your project.
All cities and jurisdictions have ordinances or regulations regarding waste and how to dispose of it properly.
Largely, this is to ensure the health of other citizens and to protect the environment by making sure people don't pollute natural areas by illegally dumping.
In addition, failing to follow these rules and regulations, even unintentionally, can lead to costly fines or other legal issues.
If you don`t rent a dumpster, you might not know how to properly dispose of all the junk. Some items can`t be thrown away in a landfill – they require special waste disposal. Renting a dumpster will require you to separate out these toxic items so they can be disposed of properly. You`ll need to do hazardous waste disposal safely.
Waste management companies help reduce waste and recycle items. It is possible to put trash for recycling in a dumpster rental. Plastic, aluminum, metal, cardboard, and glass are great for recycling services.
When you rent a residential dumpster, all of that is taken off of your plate and is dealt with by the waste management company instead.
They are experts at knowing how to follow local laws, and you can rest assured that they won't dispose of your waste in a way that will harm the environment or come back to haunt you.
Invest in your peace of mind, ensure legality, and protect the environment by utilizing the services of a dumpster rental company. 
Dumpsters are a truly underappreciated tool in the modern era. The ability to dispose of waste quickly, cheaply, and efficiently brings many major benefits to anyone working on a project.
Contact Bins4Less, a dumpster rental company, today and begin the process of starting your dream project now!
More Posts You May Find Interesting